Using Pegasus in Your Work
Is Pegasus an integral part of your work? If so, we want to know!
We love to keep up with all the ways in which Pegasus is applied. Regardless of subject or field, the Pegasus Team wants to know how our users are benefiting from Pegasus and how we can continue to better the Pegasus Workflow Management System. Please do not hesitate to get in touch with our team, whether it is to make us aware of your work or to contribute feedback.
Have you taken a look at our Application Showcase and Workflow Gallery?
Our Application Showcase features some of the work made possible by Pegasus, while our Workflow Gallery categorizes different workflow runs by application. We are eager to feature your work in a blog-post, in our Application Showcase, and in our Workflow Gallery. Please reach out and let us how you are using Pegasus and we will gladly make use of this knowledge not only on our website but also in our work.

How to Cite Pegasus
We are thrilled that you are making use of Pegasus! If you would like to cite Pegasus in your work, please use the paper citation below. Additionally, we kindly ask that you include the NSF funding statement in your acknowledgements.
The preferred generic way to cite Pegasus is: Deelman, E., Vahi, K., Rynge, M., Mayani, R., Ferreira da Silva, R., Papadimitriou, G., & Livny, M. (2019). The Evolution of the Pegasus Workflow Management Software. 
Computing in Science Engineering
, 
21
(4), 22–36. 
https://doi.org/10.1109/MCSE.2019.2919690
A suggested statement to acknowledge The National Science Foundation's support of Pegasus in the "Acknowledgments" section of your work:
This research used the Pegasus Workflow Management Software
funded by the National Science Foundation under grant #1664162.
Acknowledgment Slide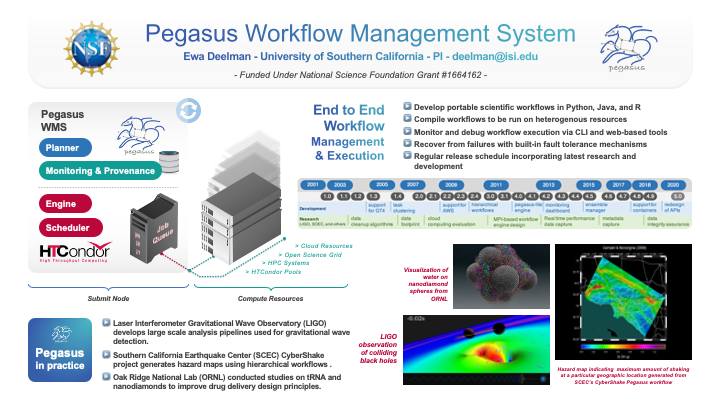 11,707 views