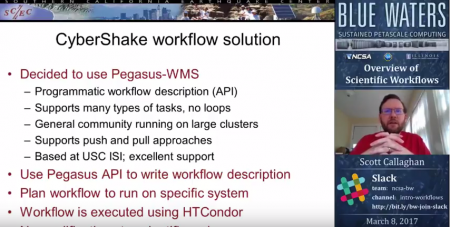 Blue Waters provides a series of free webinars throughout the year. The Scientific Workflows webinar track provides an overview of common scientific workflows and tools that enable them. In the first presentation of series of webinars, Scott Callaghan presented an overview of scientific workflows, where he discussed what the community means by "workflows" and what elements make up a workflow.
The presentation features Pegasus WMS as the solution adopted by the Southern California Earthquake Center (SCEC) to address challenges of large scale scientific computations in the Cybershake workflow, which include workflow automation, data management, resource provisioning (mover 500+K jobs through the cluster efficiently), and error handling.
The video for the presentation is shown below, and the full description of the webinar is available here. This presentation has also been featured in insideHPC.
The Pegasus team will also present a webinar in the Blue Waters Scientific Workflow webinar track:
4,268 views