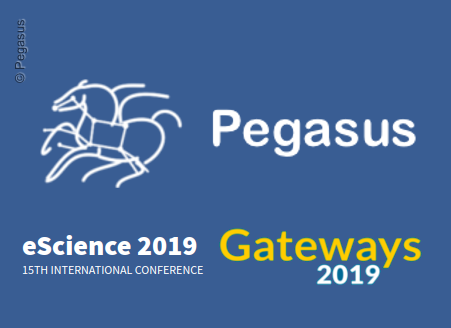 The Pegasus (SciTech) group will be presenting several talks at various workshops and main conference sessions for both the eScience 2019 and Gateways 2019 conferences. See below for a list of our team's events (details pending).
If you would like to meet with the Pegasus team in person, please email pegasus@isi.edu. We look forward to seeing you in San Diego!
Gateways 2019
Monday Sep 23:
1:30pm (Tutorial) – Deploy computations and workflows, at-scale, on the Open Science Grid – Mats Rynge, USC/ISI
Tuesday Sep 24:
11:20am – Search SRA Gateway for Metagenomics Data – Mats Rynge, USC/ISI
2:20pm – Enabling Data Streaming-based Science Gateway through Federated Cyberinfrastructure
eScience 2019
Tuesday Sep 24:
BC2DC '19 Workshop

Bridging Concepts and Practice in eScience via Simulation-driven Engineering – Rafael Ferreira da Silva USC/ISI
Wednesday Sep 25, Thursday Sep 26th and Friday Sep 27th:
Toward a Dynamic Network-centric Distributed Cloud Platform for Scientific Workflows: A Case Study for Adaptive Weather Sensing – Eric Lyons UMASS, George Papadimitriou USC/ISI
Characterization of In Situ and In Transit Analytics of Molecular Dynamics Simulations for Next-generation Supercomputer
Custom Execution Environments with Containers in Pegasus-enabled Scientific Workflows – Karan Vahi, USC/ISI
We look forward to seeing you there !!!
50 views