We are happy to announce the release of Pegasus 5.0.1, which is a minor bug fix release for Pegasus 5.0.
We invite our users to give it a try.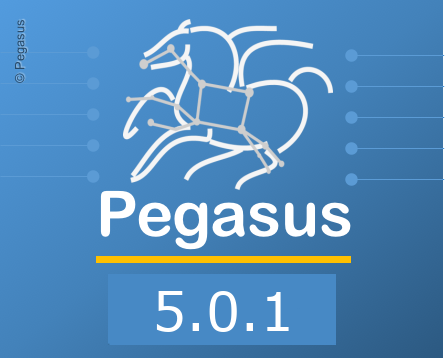 The release features improvements to the Pegasus Python API including ability to visualize statically the abstract and generated executable workflows. It also has improved support for DECAF, including an ability to get clustered jobs in a workflow executed using DECAF. This release features improvements to data access in PegasusLite jobs, if data resides on local site, and job runs on a site where "auxiliary.local" profile is set to true. Users can now use a new Submit Mapper called "Named" that allows you to specify what sub directory a job's submit files are placed in. Release also features updated support for submission of jobs using HubZero Distribute to HPC Clusters and new pegasus.mode called "debug" to enable verbose logging throughout the Pegasus stack.
The release can be downloaded from:
https://pegasus.isi.edu/downloads
JIRA items
Exhaustive list of features, improvements and bug fixes can be found below.
New Features
Bugs Fixed